Questions about getting started with your website?
Click on any of our Frequently Asked Questions below to expand content with more information.
How would a website benefit my business?
Benefits of a Website include…
Immediate access to a large number of customers.
Certainly we know that tens of millions of people access the Internet daily – and that is just in the US and Canada. You are not limited to North America however as your site has the potential to be viewed worldwide.
Users of the Internet tend to be educated and relatively affluent. And they prefer the convenience of browsing for information and services on-line versus resorting to a phone book or other hard-copy sources.
Manage your brand.
Your business is online, whether or not you have a website. Yelp, City Search, Angie's List and other online-review sites very likely have images and information about your business. Your own website lets you control your brand and messaging, and also provides a link that can be included with those other review sites.
More for your advertising dollar.
Print advertising can be expensive and there are constraints regarding the amount of content that you can reasonably include. With a website you can include an unlimited amount of information. And websites are flexible – you can start small and add or change content as the need arises or time allows.

Reduce the cost of serving your customers.
For example, by storing commonly used forms and documents on-line your customers &/or employees would be able to download as needed at any time. And it is easy to keep your documents current.
You can also reduce the overhead of phone calls or in-person contact by providing the answers to commonly asked questions and concerns on your website. And all of this is available to your customers 24 hours a day, 7 days a week.

Reduce the cost of your printed material.
You will probably still want to make use of print advertising, but you can keep it short and refer your customers to your website for more information and details. There would no longer be a need to send out a full catalog of products or services – instead announce specials or new highlights and refer customers to your website for your full offerings. You can send a postcard and save on postage too.

Keep your customers informed in a timely manner.
It is easy and fast to make changes to a website. So you can make sure that your customers have access to the most current information in a timely manner. This might apply to schedules, pricing, events, sales and any number of things.
More…
There are many more ways that a website can benefit your company, this is just a subset to help illustrate some of the more common benefits of having a web presence.
What if I want to simply build a Do-It-Yourself website or find an inexpensive alternative?
Alternatives to a Professionally Developed Website
Certainly not everyone is ready or able to make the investment in a professionally developed website, or perhaps their needs are simply a version of an online business card or flyer. If lower cost is a primary consideration, here are some options to consider.
Find an Inexpensive Developer
Do you know a college student who is taking computer science classes? Or someone just starting their career and looking to build their portfolio? Perhaps you know someone that you can exchange services with. If none of these are options, places to look are Craig's List (you can "post a gig" or look for Web Developers), or bid out your project on Elance.
Do It Yourself Resources
Do-It-Yourself websites are a perfectly reasonable solution for many individuals, and this may be the case for you. There are many options available to you that will allow you to create a nice looking website. For a WordPress website, go directly to WordPress.com and create an account and start developing your website. There are many other providers who provide the tools and platform for Do-It-Yourself sites at no cost or low cost. Examples include: GoDaddy do-it-yourself, Squarespace, Wix, SnapPages and many more. Simply search for "do it yourself website builders" and you will find additional resources.
Considerations when choosing
Time & Energy: For starters do not underestimate the effort and learning curve involved with the websites that you build yourself using "easy tools". If you happen to be quite technically savvy and feel competent with presentation software packages such as PowerPoint, it may be easy and worthwhile for you. But most of these packages sell themselves as "point – click – done" while in reality they are challenging, time consuming and can be frustrating for most people to create.
Professionalism: Next consider the value of the experience that we bring to the table. Certainly you have seen websites that are too busy, unorganized, too verbose, not visually appealing or any other number of detractors that turn you away from the site. It can be a challenge to organize and present yourself and your business in a professional and easy to navigate manner. We have the experience to ensure a professional look to your website.
Cost Considerations: Do you really save money with the Do-It-Yourself approach? The small monthly fee may sound attractive. But will the company be around in a few years? (if not, what happens to your website?) Will their rates remain stable? And how long do you expect to have your website? Mosaik Web aims to be an affordable alternative. The websites we develop are likely to cost more than a Do-It-Yourself alternative, but are not as prohibitive and you might image.
Ownership & Future Growth: Will you own your domain name (URL)? And can you "take it with you" if you leave the provider? With some packages, yes you will own your own domain name. With others packages the domain name is part of the package you purchase. And either way, what happens if you decide you are ready to expand upon the website you initially built and want a more robust solution? The code that is under-the-covers of these websites is not something that you can pick-up and take with you. You will need to start from scratch and rebuild anything that you have previously created. And if you don't own the domain name, you will have to purchase a new one (which will require updating business cards, stationery, flyers and any links from other sites to your existing site).
Lastly
Do you really want to look like everyone else? The templates provided by the DIY sites ensure a cookie-cutter look to your website, while Mosaik Web offers a custom designed website created just for you. The templates provided by the DIY sites ensure a cookie-cutter look to your website, while Mosaik Web offers a custom designed website created just for you.
How would WordPress allow me to manage my own site?
WordPress can function as a "Content Management System"
Although WordPress is well known as a popular application for creating blogs, it has also gained popularity as a Content Management System (CMS). A CMS gives you easy access to add, delete and modify your website content with an easy to use editor. You login to your CMS Administrator page via the Internet to proceed with website updates.
Really, to make your own updates to a WordPress website is as easy as as easy as
(1) Login • (2) Select • (3) Edit as shown below.
Click to learn more about WordPress…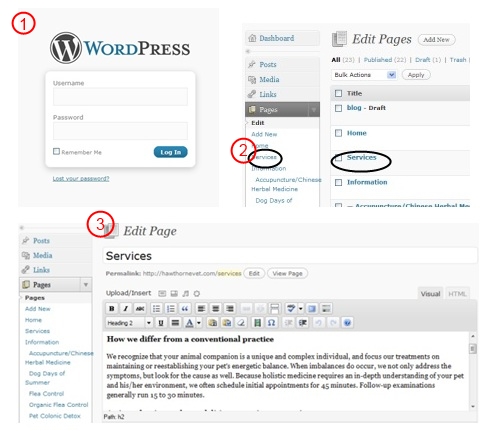 What does Search Engine Optimized (SEO) mean?
Search Engine Optimization
Creating a website is no guarantee that anyone will ever see it or that search engines (such as Google or Yahoo) will be able find it. So when designing your website we will make use of techniques that help the search engines be able to find your site when someone is searching using terms related to your business and your website.
We further assist you by submitting your site to the major search engines as well as providing appropriate files (such as a sitemap) to facilitate the process.
Our Blog contains some success stories where clients specifically needed help being found by search engines. Click here is one such SEO Success Story.
Tell me more about Domain Names (URL) and Website Hosting.
Website Domain Name (URL) and Hosting
There are three main building blocks for your website:
the domain name
website hosting
the website itself (a collection of files).
Think of building a house. Your home's address is how people find you, this would be the domain name (or URL, www.mywebsite.com) for your website. The land where your house will be built is the physical space where your house resides – this is what web-hosting provides, a physical location where your website files are stored. And lastly think of your website as the house after it has been built.
We prefer clients to purchase their URL and website hosting because it gives them 100% ownership of their website once its developed and implemented. Mosaik Web will create your custom website and then upload the files to your web host.
Here are some of our published posts on this topic:
Managed Website Hosting

SiteGround – Engineered for speed, built for security, crafted for WordPress.
Feature-rich managed WordPress hosting with premium support.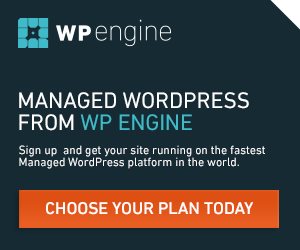 WP Engine – The "Cadillac" of Managed WordPress Hosting. Keep your software
up to date and secured. Free migration of your existing website.
Plus they will restore your site for free if it is hacked.
Disclosure: Please note that any referral may be an affiliate links. That means Mosaik Web might earn a commission if you make a purchase. Any suggested product or provider is one that I have used myself and feel comfortable recommending. However you are encouraged to pursue further reviews as I only want you to spend your money on products that you need and that will help you achieve your business goals.
What are Common Considerations for creating my website?
Considerations for your Website
1. Your main objective
The first step is to consider – what is the purpose of your website? Typical examples include one or more of the following:
Attract new customers by advertising your services and qualifications
List or update events & class schedules
Showcase special skills, awards, affiliations and more
Announce specials and offer discounts or coupons
Provide contact information and maps
Receive customer input/feedback via forms or email
Provide detailed product information or documentation to existing clients
2. Audience
It is important to design your site with your intended audience in mind. Is your site intended to introduce your business to new clients? Or are you hoping to enhance your relationship with existing customers? Certainly both are possible. Additionally you may be an employer or organization that wants to keep guidelines and training material online. Your website's content will be driven by your purpose and audience.
3. Image
Your website presents a visual image of your business and sets a tone. For instance a yoga studio might want to project a zen-like mood by making use of calm and soothing colors & images. While a mountain bike shop would most likely prefer a site that feels bright and energetic while showing off their bikes in action.
4. Publicize
Putting a website online does not automatically result in people viewing it. Your website will need to be announced and promoted.
Mosaik Web will initiate on-line publicizing by submitting your site to the major search engines: Google, Ask, Yahoo, and DexKnows. This will help the search engines know your sites is out there so it can be found when a web user is searching for specific information.
From your end, you will want to include your website's address (URL) on all of your regular business correspondence – brochures, business cards, invoices, receipts, advertisements, letters and faxes. Anywhere that you would publish your phone or address would benefit from including your new web address.
Additionally including your web site in online directories or organizations that are specific to your business can be useful. For instance you can see that our sample site (Whisker Watch, a pet sitting business) is also listed in the directory for Oregon Petsitters and Portland Petsitters.
5. Maintain
Over time you may feel the need to make changes to your site. For instance if you frequently get asked the same questions by new customers, that might lead you to want to update your site to add that information either prominently or perhaps by utilizing a "Frequently Asked Question" (FAQ) page.
Also information may change or become obsolete, and ideally you would make updates to your site to keep it current. Mosaik Web can develop your website on WordPress [Read More…] which offers you the ability to maintain your own site. This is a great way to go if you know you that will have frequent changes (schedule changes, product changes, etc) or if you are very comfortable with the Internet and computers in general. Otherwise for the occasional update, you can request a "tune up" to make changes or possibly even expand your site.
What sort of content would you recommend for my website?
Content for your Website
Basic Information that all sites should include start with who you are and how to find you:
Business Name, Description, Address, Phone Number and Email address.
Ideally this information is easy to find on every page!
Typical additional information might include (but is not limited to) any of the following:
A map &/or directions to your location
Links to Social Media
"About us" to reflect your business philosophy
Professional associations (BBB, AAA rating, and so on)
A menu of your services, products or specialties
Pricing information
Hours of operation
Schedule of classes or events offered
Monthly newsletters
Newsletter/Email Sign-up forms
Professional bios of business partners or associates
Testimonials & endorsements from clients
A portfolio of past work/projects
A list of Frequently Asked Questions (FAQs) and answers
Discounts or specials you are offering
Anything you wish to share with the public
Why do you request content be provided before proceeding with the project?
Why do you want all content in advance of proceeding?
There are two primary reasons for requesting you to prepare your site content in advance of proceeding with the project.
Knowing what content is to be included up front provides a clear picture of the scope of the project (how many pages, how much formatting will be required and more).
Projects have been known to linger (for over a year in some cases) while waiting on the client to provide the final content that will be needed in order to launch. So we have learned that in order to ensure a timely launch date, we need all of the content that will be included up front.
Some website designers will create your website copy for you for an added cost. The process involves in depth interviewing and research to understand the nature of your business so that it can be represented appropriately on a website, then the time to write the content. Because we are a boutique company with limited resources, we do not offer this service. It keeps our costs lower and helps us balance our limited resources to focus on what we do best – design and development of your website.