A Tenfold Improvement on my Comcast WiFi Performance
As a website developer, I am on the Internet all day every day as part of my job. So the speed of my wifi network matters very much! I was quite miserable for a long time as a Comcast customer who has been paying for Blast level service but seeing only 10Mbps speeds. I hope your performance is not as bad as that, but if so, this article may be of some benefit.
I started with Customer Service, which was not a helpful endeavor other than to confirm that our equipment was out of date. Since we bought our own equipment (modem and router), we were responsible for performance past the point of connecting the cable.
So….Step by Step, here is the DIY on how I incrementally jumped from 10Mbps to 100Mbps
Step 1, New Modem
---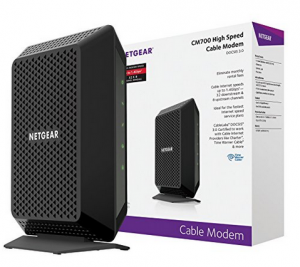 First of all my modem was officially no longer supported for my level of service (Blast). My
SpeedTest
results were in the 10Mbps range. This was misearble!
So my starting point was to replace our modem. I purchased the NETGEAR CM700.
At this point my download speed doubled to 20Mbps. An improvement, but I felt there was still a long way to go.
Step 2, New Router
---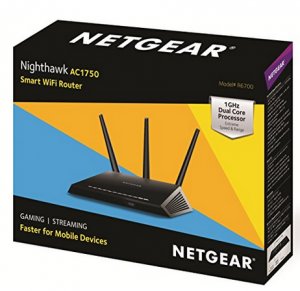 Next I upgraded my router to
NETGEAR Nighthawk AC1750, dual band
.
Now my download speeds increased to 28Mbps. A good jump, but not as much as I hoped for.
Step 3, Router Setting & Location
---
Next, I did some more research. I moved my router so that it was positioned higher in the room, and took advantage of the antennas.
Using the Netgear Genie software I modified my router setting for the 2.4ghz band by unchecking the option to "Enable 20/40 Mhz Coexistence". See the screen shot below (click image for a larger view). My reading had suggested that enabling this could reduce wifi speeds due to conflicts.
Now my download speed results were exceeding 40Mbps. So now we are at an increase of 4x from where I started.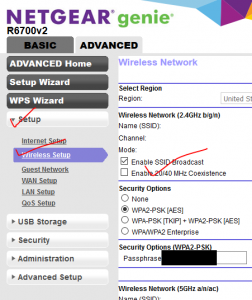 Step 4, Dual-Band Network Adapter
---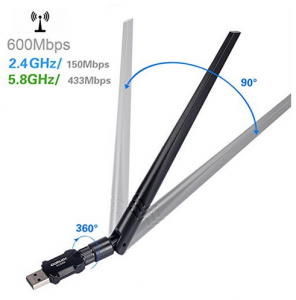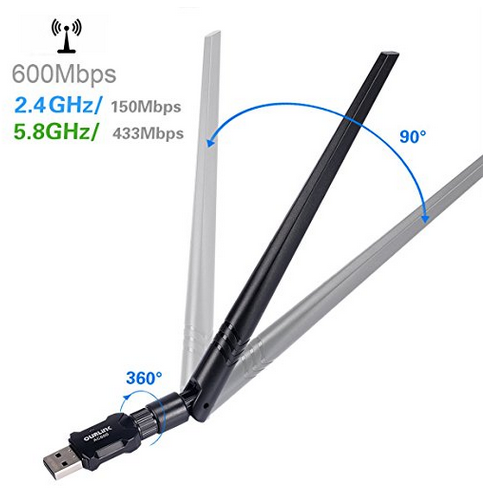 And now for the final piece of the puzzle, a $20 investment that brought my download speeds up to 100Mbps.
My Dell desktop computer does not support dual-band wifi. So I was not able to take advantage of the 5Gz wifi channel that my router was broadcasting. So I purchased a small adapter that allowed my desktop to connect to our 5Gz wifi connection – an OURLINK 600Mbps mini 802.11ac Dual Band 2.4G/5G Wireless Network Adapter.
This was a big win! I more than doubled the speed from Step 3 to be in the 100Mbps range. I will add the my husband's performance is significantly higher than mine, his computer is MUCH closer to the modem and router providing him a stronger signal.
Take Note…
You might observe that the biggest performance gain was this step (#4) which was the smallest investment of both time and money. You might start here if you already have a router with 5G, but your computer doesn't support the 5Ghz channel.
Lastly, A possible simplification
---
It is possible to purchase a
Cable Modem+Router
combination that will do the same as #1 & #2 above. I decided not to go this route because the router is more likely to need to be upgraded sooner than the router, and I didn't want to be forced to invest in both again in the future if it wasn't necessary. But if you prefer that route, here is the item that will provide the same functionality…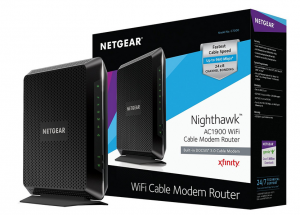 Disclosure: Please note that one or more of the referrals above are affiliate links. That means Mosaik Web might earn a commission if you make a purchase. You are encouraged to pursue further reviews as I only want you to spend your money on products that you need and that will help you achieve your business goals.