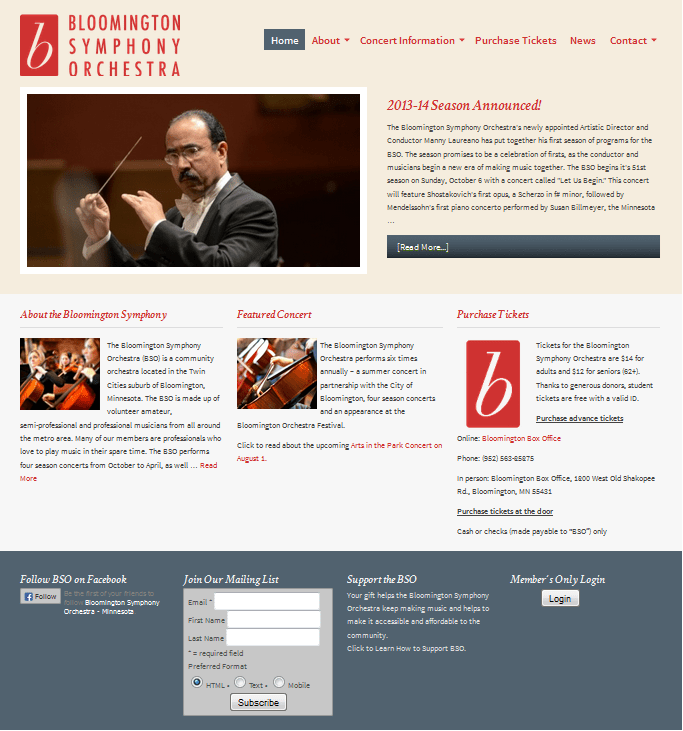 The new website for Bloomington Symphony Orchestra involved a lot of teamwork between Mosaik Web and Sara, the BSO's general manager and person responsible for their website. They were ready for a new website and were especially frustrated with the Flash menu structure (which required paying a programmer for every update). Before contacting Mosaik Web they had already decided on a WordPress website and selected a template that they thought would look great.
Mosaik Web's role was to help them select a template that would satisfy their needs and then to implement and customize the template. We settled on the Studio Press Metric theme. The BSO had worked with a graphic designer and they had a specific color palette in mind as well as font requirements – Mosaik Web modified the template to accommodate the specifications. On the client's end, they added all of the regular page content, while Mosaik Web added the Home Page content and images and then setup the sidebar content.
Their site is quite lovely and easy to navigate. And now it is quite easy for Sarah to add posts about upcoming concerts and events or to add and delete regular pages as needed.
Below is a screen shot of their original website.