WordPress Websites…So You Can Take Control
Mosaik Web specializes in developing
WordPress-based
websites. Customers are choosing WordPress because it allows them to make edits and updates from any computer at any time, with no special programming skill required. And it is a
free
, open source application.
Join the 14 million-plus
More than 14 million websites use WordPress . It is a popular application for creating blogs, and is now the most popular choice as a Content Management System (CMS). A CMS gives you easy access to add, delete and modify your website content with an easy to use editor. To manage your website you simply login from any Internet browser.
Yes there are other CMS platforms available (such as Joomla or Drupal). However we choose WordPress as our CMS platform because it is powerful enough to meet the needs of every website that we have ever developed, it is considered the best choice for small to medium sized websites, and it is widely regarded as the easiest of all CMS applications for YOU to learn. Of course "easy" is a relative term, but WordPress is clearly easier than the other options to learn.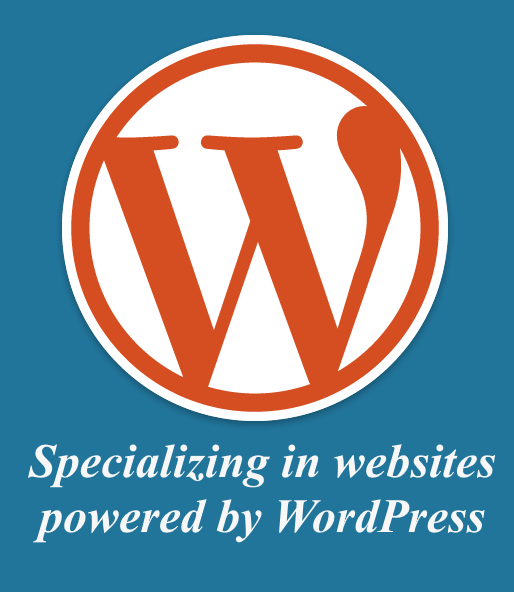 Update your own content
To manage your website using WordPress is as easy as (1) Login, (2) Select and then (3) Edit as shown below.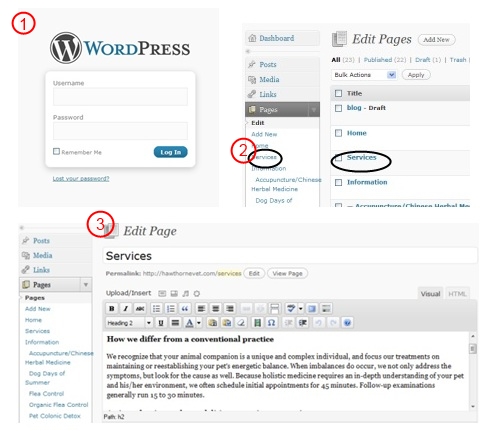 Easily add new Functionality
Additionally with a WordPress website, you have a large number of "Plug-in" applications available that are typically free and can be implemented to expand the features and functionality of your website. Thanks to plug-ins you don't have to program new functionality from scratch (which could be expensive) – instead the steps are simply to: install; activate; and update settings. Examples of commonly used plug-ins include: Slideshows • Photo Galleries • PayPal payment buttons • eCommerce functionality • Contact Forms • Facebook integration • and so much more.
What's the Catch?
Because WordPress and any associated plug-ins add layers of software to your website, there is some maintenance and upkeep involved. Think of it like owning a car. Even if it sits in the garage, it needs a bit of maintenance on a regular basis. Keeping your site up to date is the best way to keep your site secure and performing optimally. The ongoing tasks would include backing up your website (with tools built in to your solution), and updating the software. Software updates are a matter of checking a box and "submitting" an update and the process usually only takes a few minutes. Documentation is provided to clients on how to perform these tasks.
Convert your existing site to WordPress
Do you have an existing website that you like, but you would like to convert it to WordPress? We can do that! We have done this for several clients where we have recreated their existing site on a WordPress platform. However if you are converting to WordPress, this might be a good opportunity to re-evaluate your website and freshen things up a bit. Whatever you have in mind, Mosaik Web can help.