A few months ago, a friend posted on Facebook that she wanted everyone to click on her site to help her ranking on Google. She had a new website and could not find it using search engine.
Well I found this to be interesting. I did try to search for her by name; by name and occupation; by adding location filters and so on. She was right, her website could not be found at all!! Next I looked "under the hood" of her website to see how it was developed and some of the possible reasons that she might not have been found by search engines.
I observed 4 key things and sent her a message suggesting that perhaps her developer could make a few adjustments to help. Well instead she hired me to make the suggested changes. And I am happy to report that she went from None (no appearances in the search engines) to #1 in a very short time frame.
See for yourself. Search for "deb high therapist" on Google and her website will be the first result returned (following the paid advertisements).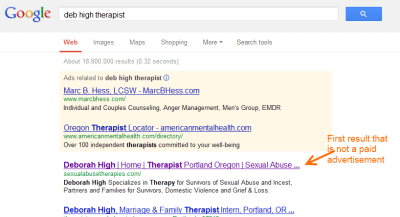 So what did I do for Deb?
1. Replace text that was displayed as a graphic image with actual text.
Google can not search the content of an image. And Google loves content and this is key to your search ranking. So key information that included "Deborah High, M.A., LMFT Registered Intern…Therapists License #R2014…Specializing in…" was not seen by Google at all when it was displayed as an image! Additionally menu links were graphics rather than text as well, I also replaced these.  To recreate the same look as the graphic image I used Google Webfonts (http://www.google.com/webfonts). I should add that using text vs. images not only helps with search engine ranking – the website content looked crisper and easier to read and it helps with long term maintenance of her site.  Now if Deb wants to add a new menu item or elaborate on her skills or any important information, a simple HTML update is all that is needed and no graphic software is required.
2. Expanded the Title Tag <title> to include useful keywords.
Deb's website used a short title tag that simply reiterated the name of her website and included the page name. I suggested expanding the Title in order to introduce more meaningful terms. I should add that I did invest time researching optimal word to use that would help her ranking.   Google had a nice tool to help with that:
https://adwords.google.com/select/KeywordToolExternal.
Previously: <title>Home - Sexual Abuse Therapies</title>
Improved: <title>Deborah High | Home | Therapist Portland Oregon | 
Sexual Abuse Counseling Portland | Family Therapist | 
Couples Counseling | Survivors of Incest and Domestic Violence 
and Abuse | Working with Survivors of Emotional and 
Physical Abuse </title>
3. Changed the META Description Tag to something meaningful.
The Description Tag is a useful way to elaborate on your site's content.  Also it should vary on every page – previously the description tag was replicated on all pages and the text could be improved with more terms that are relevant to Deb's business.
Previously: <meta name="description" content="The act of doing 
therapy is a bit like tending to a garden; it takes diligence and 
care to achieve growth! It sounds challenging I know, but the 
outcomes and successes ..." />
Improved:  <meta name="description" content="Deborah High 
Specializes in Therapy for Survivors of Sexual Abuse and Incest, 
Partners and Families for Survivors, Domestic Violence and Grief 
& Loss - PAGE NAME VARIES" />
4. Modularized the code.
Okay this didn't help with search engine ranking.  But much of the content on Deb's site is replicated on every page.  For instance her title and specialty, and the navigation code.
So I broke out common code and put it into a separate file (for instance menu.php), then used php to include the file in appropriate place.
For example: <?php include("includes/footer.php");?>
In Conclusion…A website can look great and function properly, but the code behind-the-scenes is of the utmost importance if you want your website to be found by search engines and when considering long term maintenance.  And it is pretty straight forward to create a website that can perform well in the search rankings. I hope you find these tips helpful.