The Project
The project for our recent client Haven of Rest Day Spa involved creating a new WordPress website for them, transferring their domain to a new account, and moving them to a new website host. The domain and hosting accounts were owned by the developer of their original website, which is why clients are encouraged to establish and their own domain and website host accounts before we begin building their website.
And as expected, the client wanted to minimize the downtime involved when we transferred accounts and went life with the new WordPress website. Well with some advance research and planning we were able to have no downtime involved at all, and the result was a very happy client.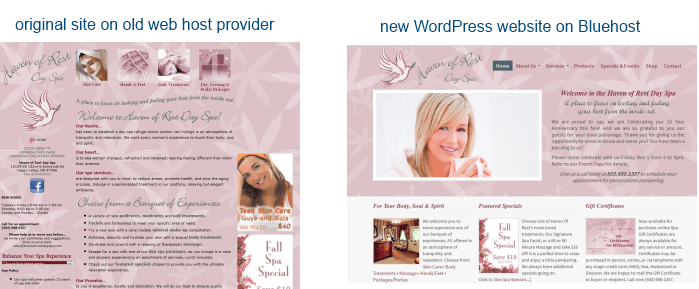 The Quick Summary
I'll start with sharing the quick summary of the process, then the details will follow.
The short version is that we set up a new hosting plan with Bluehost, created the new website in a working directory on their server, and when the new site was ready to go live we had the domain name servers (DNS) updated to point to Bluehost. The site went live with no downtime. Lastly we initiated the domain transfer request.
The Research
The following support inquiry was sent to three website host providers* (Bluehost, Bluedomino and GoDaddy):
"I am pursing moving website hosting and domain registration from one provider to a new one.  The plan is to  (1) establish a host account for her (2) then setup the site on the host account BEFORE we transfer the domain — so a workspace to have her new site ready then (3) transfer the domain to to our new account and have her workspace become the live site. Is this easily doable? If so can you please outline the details on how to execute this transition?"
Only one response was received within 24 hours, which was from Bluehost. And only one response was a personal reply where it was clear that they understood my questions and responded to them directly with useful answers. Again Bluehost. Because both Bluedomino and GoDaddy responded with cut & paste answers and links to references (which I had already pursued online and did not find the specifics that I was looking for) – it was not clear if or how the process would work with either of those two providers.
So the decision was made, and moving forward I continued to receive prompt and personal replies to my questions from the sales representative who initially contacted me.
The Process
(1) We started by signing up for a web hosting account at Bluehost. During sign-up we entered the client's existing domain name in the field "I Have a Domain Name". Note that you may be asked for verification that you are the owner of the domain, in which case you will provide a valid EPP code.
(2) Note that nothing changes at this point with the existing original website or the hosting or domain account(s).
(3) Once the account was established we build the new website on the server in working directory/URL (such as http://74.220.219.65/~examplec/
(4) When the new website has been fully created on the new host account and is ready to go live, then from the account which owns the domain you update the domain name servers (DNS) from their existing location to point to domain name servers provided by your new host.
(5) Once step #4 has been completed, it may take a few hours but you will see your new site live at its own URL (versus the temporary one noted in #3 above).
(6) If your site is on WordPress, go to the Admin Settings option and update BOTH the WordPress Address U(URL) and thh Site Address (URL) from your working URL to your actual URL.

(7) After your site is live at your actual URL you no longer need your old hosting account. And at this time you can initiate transferring your domain to the new account as well. Be prepared for the transfer to take up to 5 days. There is no downtime associated with this step.
Some pointers for a WordPress site
When developing your site at the temporary location (#3 above), it is a good idea to avoid using full URL names that specify the temporary URL where possible. In many cases the the URL name change will resolve itself when you go live with your new site, but with WordPress where you are likely to have problems is with Widgets and any references to links and images.
So for instance if you are referring to an image in your media library, simply start the URL from "/wp-content/uploads/2013/11/myimage.jpg" vs "http://74.220.219.65/~examplec//wp-content/uploads/2013/11/myimage.jpg". Apply similar logic to internal links.
If after your site goes live you find that you still have some hard-coded references to your temporary URL, then the Velvet Blues Update URLs plug-in can be used to resolve those for you.
When you don't own the original accounts
If you are not the owner of the account for the domain or the website hosting package, then some of the steps above will take cooperation from the account owner. Notice that Step #1 above may need an EPP code which will come from the existing account. And Step #4 requires someone with access to the domain account to change the DNS servers. Lastly Step #7 will require that the current domain account owner release the domain when requested.
In our case the account owner was very cooperative and that was helpful to us. It is because that might not always be the case that Mosaik Web encourages clients to own their accounts entirely. If they ever want to make a change, it is much easier if they are in control of the assets associated with their website. You can read more on that topic at Take Ownership of Your Website.
*Disclosure: Please note links to Bluehost are affiliate links. That means Mosaik Web might earn a commission if you make a purchase. Any suggested product or provider where I am an affiliate is one that I have used myself and feel comfortable recommending. However you are encouraged to pursue further reviews as I only want you to spend your money on products that you need and that will help you achieve your business goals.