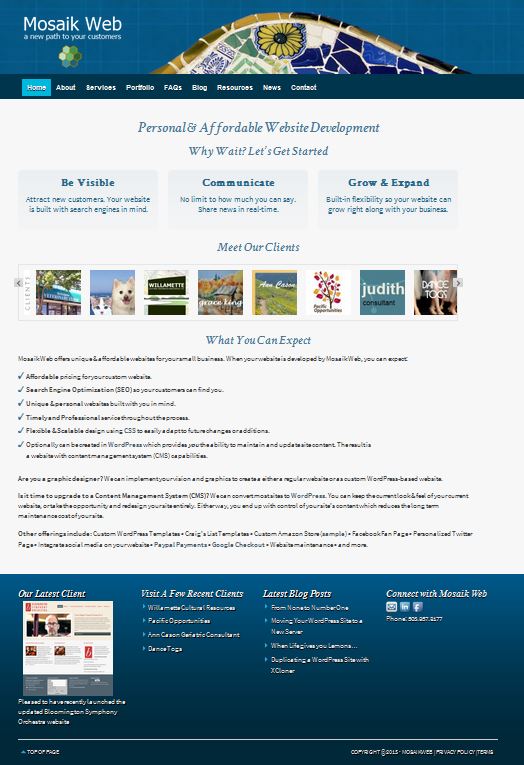 I have had this website since 2009. It was developed from scratch all using HTML, PHP and CSS. In the meantime I have been developing numerous WordPress-based websites for clients. I finally decided it was time to do the same for me – so Mosaik Web is now a WordPress website.
I haven't changed the content, and the overall look was only modified slightly. But the underlying infrastructure is now more robust and my site is significantly easier to maintain and update. WordPress is known to be the easiest to use of the Content Management Systems available.
Why the change? Well for one, I tend to like to freshen up the look once in awhile. And a WordPress site makes it a snap! Simply change your theme or modify your existing theme, and voila, the new look now applies to every page and post on my site.
Additionally, it is much easier to change content using WordPress than what was required of my HTML website. I can use a WYSIWYG (what you see is what you get editor) rather than marking up HTML in a file then uploading it via FTP.
And now my site can actually do some of its work on its own! So there is less for me to do which saves me time. For instance the Google XML Sitemap plug-in keeps my sitemap current. So I no longer need to update the sitemap whenever I add or delete a page or post. Additionally the Broken Link Checker plug-in will scan for broken links every 72 hours reporting any broken links to me. I no longer need to check for outdated links.
And now I can certainly make a better case to my clients about the virtues of WordPress website 🙂